TRIO Student Support Services
The TRIO SSS program helps students overcome economic, social and academic boundaries to higher education by assisting with basic college requirements and providing students with needed services and support.
We are invested in your success!
We are a committed team of staff, tutors, and mentors that will help you shape your signature student experience by creating a personalized Academic Success and Career Plan. This plan, combined with the effort of your team and your personal motivation to succeed, will help guide you through your first two years of college.
Services and Resources Provided:
Student Support Services is a TRIO program that provides opportunities for academic development, assists students with basic college requirements, and serves to motivate students towards the successful completion of their postsecondary education. The SSS program may also provide grant aid to current SSS participants who are receiving Federal Pell Grants. The goal of SSS is to increase the college retention and graduation rates of its participants and facilitate the process of transition from one level of higher education to the next. The Student Support Services program at SKC serves 230 students from low-income and/or first-generation backgrounds or with disabilities each year.
Academic, financial advising
Assistance in securing admission and financial aid for enrollment
Information for tutoring services on campus
Campus visits (UM and MSU) and cultural trips
Other Student Academic Services Include
Individualized or group tutoring
Math / English skill assistance
Workshops- Times TBA; workshops may be subject to time change and venue changes
Computer Lab
Textbook Loan Program
TRIO Family Night-Pizza
June 1st, 4:00 PM - 6:30 PM
---
SKC YEAR-END BBQ: Staff & Students
June 1st (Thursday), 12:00 - 2:00 PM
Robert Depoe III Building
FOOD - MUSIC - GAMES
---
TRIO Scholars Luncheon in the Sherri McDonald Room
May 31st, 12:00 PM - 2:00 PM
RSVP is required. RSVP here.
---
Graduation
June 10th
---
For more information, contact: sunshine_gaither@skc.edu or chantel_starblanket@skc.edu.
TRIO family lab night - Pizza
Activities for the kids while you study and/or catch up on your course work!!!
TRIO SSS Eligibility Requirements: participants must be an admitted SKC student and meet at least one, and preferably two, of the following three requirements:
Income eligible as defined by the U.S. Department of Education
Be from a family from which neither parent or guardian has a bachelor's degree
Have a documented disability and be registered with SKC's campus Disability Services.
Students must fill out the SSS Application  when enrolling at SKC. This will determine eligibility and can take up to two weeks.
Upon acceptance, a letter will be emailed out to students and they will need to fill out a Verification Form and SSS Personal Success Plan.
For the current year we require a financial needs analysis or proof of income from year 2020.
Congratulations Jade Dempsey
Meet Jade Dempsey, one of 12 Montana College Students awarded the 2023 Montana Student Volunteer Award. Her inspiring commitment to community service includes raising thousands of dollars for the Ronald McDonald House and collecting donations for Boys and Girls Club and Safe Harbor.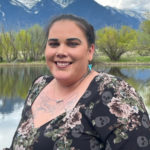 Olivia Perez and Frankie Wright
Congratulations to Olivia Perez who is the new AIHEC (American Indian Higher Education Consortium) student congress president and to Frankie Wright (TRIO-SCHOLAR) who is the new student regional representative for AIHEC!!! We are so proud of you both!!