The Highway Construction Training Program (HCT) provides students with the necessary technical skills, knowledge, and credentials to obtain employment as entry-level heavy equipment operators and truck drivers. The curriculum is designed to prepare students to meet the needs of employers in the highway construction industry, general road construction, mining operations and related industries, and in tribal, city, county, state, and federal government road maintenance jobs. Students work in a positive learning environment under the supervision of qualified instructors who guide and advise them in conditions that duplicate actual work sites.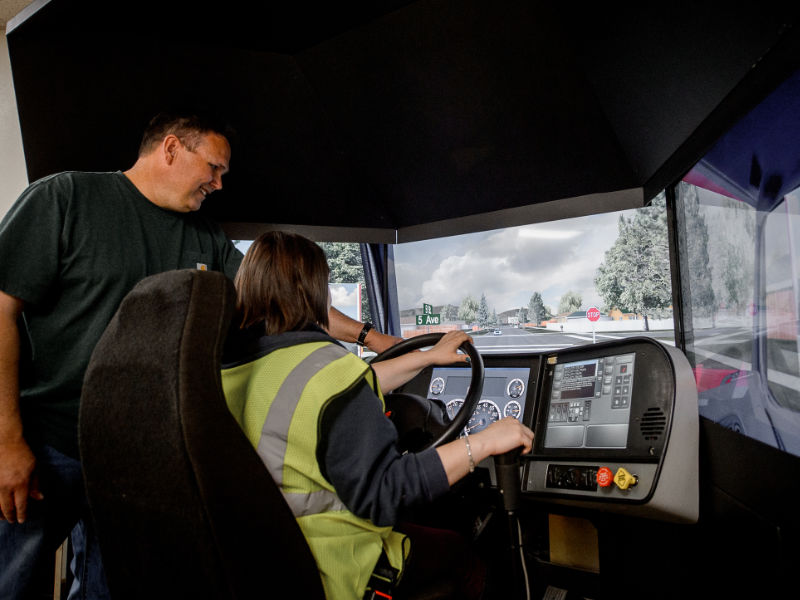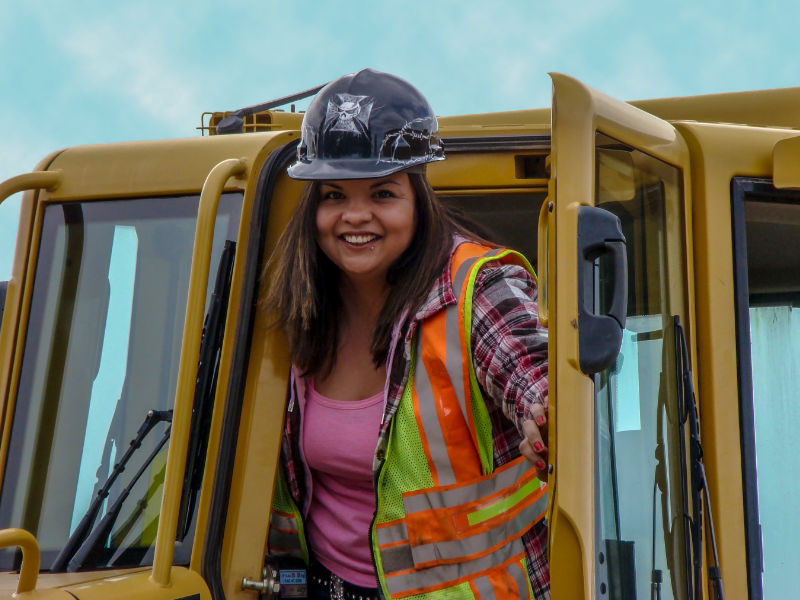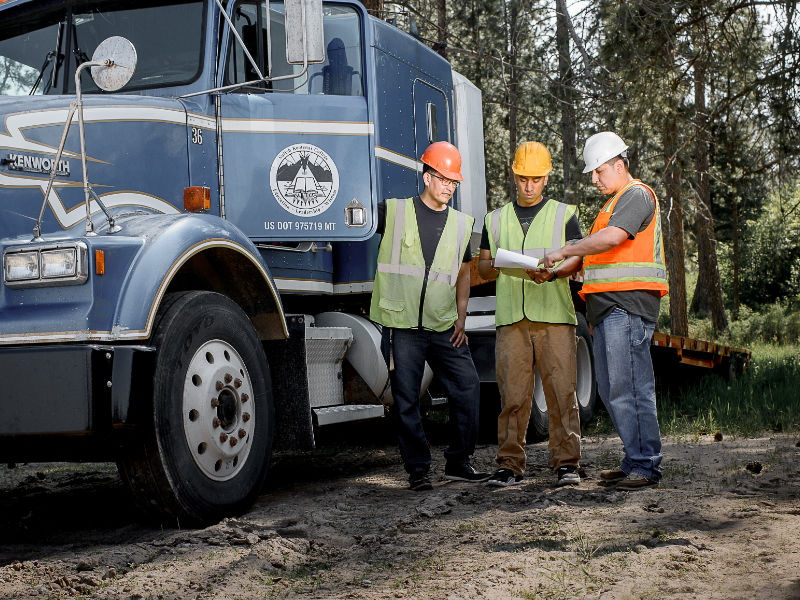 CC Highway Construction Training
The HCT certificate program will provide training for students to obtain the following credentials: a Class A Commercial Driver's License (CDL) with Tank, Double/triple, and Haz Mat endorsements; Montana flagger card; Heavy Equipment Operator certification from the National Center for Construction Education and Research (NCCER); and an OSHA (Occupational Safety and Health Administration) 10 Hour Safety Training card. Students take one quarter of truck driving and one quarter of heavy equipment operation during fall and winter quarters. During spring quarter, students gain field experience with emphasis in either truck driving or heavy equipment operation through community service activities that typically include work for tribal elders and other tribal departments, and projects for local youth sports organizations and other non-profit entities.
Students also gain skills and proficiency in areas such as basic surveying concepts, construction math and blueprint reading, work ethics, job applications, interviewing, verbal and written communication, and related educational skills. The heavy equipment operation component is accredited by the National Center for Construction Education and Research (NCCER).All full-time HCT faculty members have been trained and certified by NCCER as core curricula/craft instructors.
Upon completion of the Certificate of Completion, students will be prepared to:
Operate backhoes, bulldozers, compactors, excavators, loaders, road graders, and scrapers safely and efficiently.

Have earned a Class "A" Commercial Driver's License (CDL) and endorsements by demonstrating proficiencies based on Montana and USDOT requirements, and operate ten and eighteen wheel trucks safely and efficiently.

Demonstrate competency in Temporary Traffic Control through training and testing based on requirements of the Montana Department of Transportation and the Manual for Uniform Traffic Control Devices from the USDOT of the Federal Highway Administration. Students will receive a Flagger Certificate upon successful completion.

Use critical thinking to describe basic mechanical operations and implement preventative maintenance procedures, and to demonstrate knowledge of the laws, regulations, and safety requirements of the profession.

Demonstrate proficiency in preventative maintenance and basic mechanical skills

Attain the technical skills and knowledge necessary to earn credentials from NCCER in Heavy Equipment Operation

Demonstrate knowledge of the laws, regulations and safety requirements of the profession, to include OSHA-10 hour safety training

Demonstrate familiarity with the realities of employment in the truck driving/construction industry.

 
Important Program Information
Students must contact the Registrar's Office, Financial Aid, and the Highway Construction Training Program prior to admittance to the program.

Students must receive a "C" or better in all required courses to graduate.

All students, faculty, and staff are subject to random drug and alcohol testing throughout the year.
In addition to regular college admission requirements and prior to enrolling in the Highway Construction Training Program, students must provide HCT with the following:
Complete HCT admission application

A current Department of Transportation (DOT) Medical Examiner's Certificate (MEC)

Copy of current Montana Driver's License

Social Security Card, non-laminated

Complete DOT Drug Analysis Screen

Placement test
To obtain a CDL, students must pass a medical examination completed by a certified USDOT Medical Examiner and be issued a Medical Examiner's Certificate (MEC). A current copy of the MEC, along with the long form provided by the medical examiner, must be returned to the HCT office.  The DOT drug screen is taken separately from the DOT physical and may be completed by the lab in a hospital where you live and mailed to the Personnel Director at Salish Kootenai College. Please be advised that this program will not accept a drug screen taken prior to 30 days before the first day of class.
Physical Requirements
Must be able to lift 50 pounds to shoulder height.

Must be able to perform safely in field operations.

Must be able to communicate orally with a person 20 feet away.

Must be able to climb, un-aided, onto and off of equipment using three points of contact.

Must be able to stand for long periods of time.

Must be able to visually read from a blueprint or drawing.

Must be able to hear a backup warning alarm from 100 feet down.
Note: Students should be advised that some companies that hire CDL drivers require the following: 23 years of age, no DUI's in the past 7 years, no more than 3 moving violations in the past 3 years, and a pre-employment drug screen. Note: Students with a history of criminal convictions may not be eligible for all positions within the Highway Construction trade. Students with concerns in this area should consult with the program director.
Preference for admission is given to American Indians documenting tribal membership or descendancy (traceable to second generation). Non-Indian students are admitted as space is available.
Apply now and enjoy a unique educational experience that blends Western academic knowledge with Native American perspectives and practices. Benefit from smaller class sizes, personalized attention, and opportunities for hands-on learning and research. Join a supportive community that values cultural diversity and academic excellence, and prepare for a successful career and leadership role in your community. Apply today and start your journey towards a brighter future at SKC!